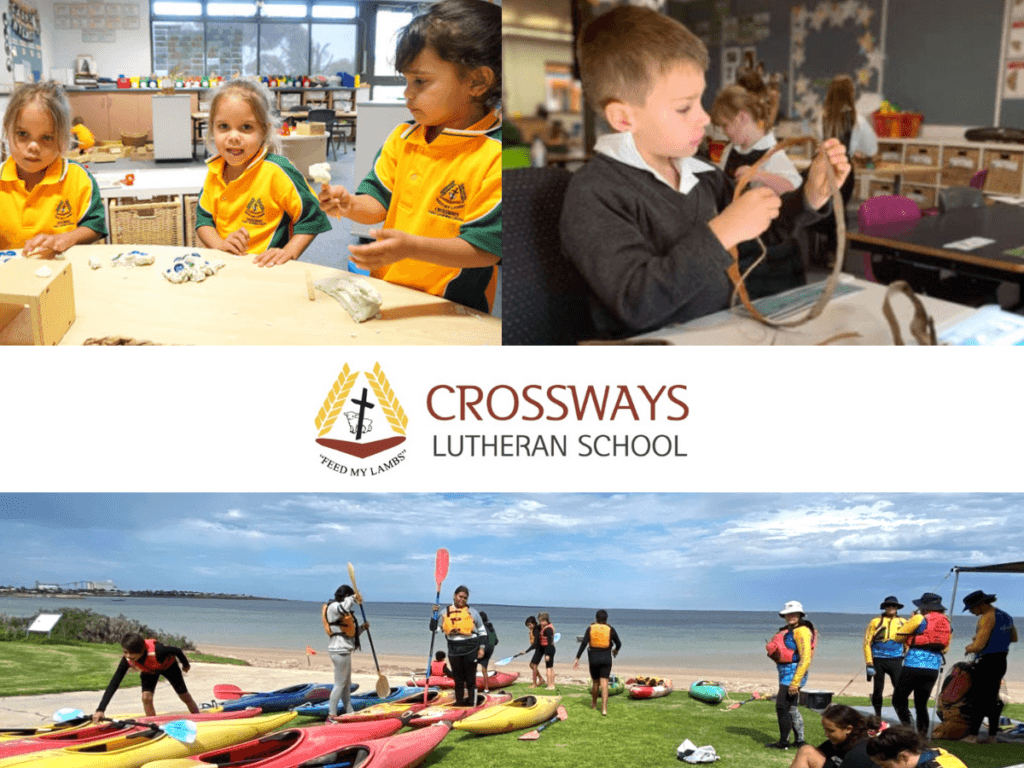 Multiple full-time permanent positions available in ELC, Primary and Middle School
Relocation and accommodation assistance negotiable
Peer to peer support, staff mentoring and vibrant community lifestyle
Crossways Lutheran School are seeking multiple teachers for 2024
Are you ready for a rewarding teaching adventure in the heart of picturesque Ceduna? Crossways Lutheran School are seeking passionate teachers to join their dynamic school community and make a lasting impact on the lives of students. Their school is committed to providing a Christ-centered learning environment where teachers play a crucial role in nurturing young minds.
About Crossways Lutheran School:
Crossways Lutheran School is situated on the Far West Coast of South Australia, in the charming coastal town of Ceduna. Ceduna offers the best of coastal and outback living, boasting pristine white beaches, excellent campsite options, abundant fishing opportunities, vibrant sports community clubs, and a warm and welcoming local community. This idyllic town also provides convenient access to Adelaide through regular flights, making it a truly enticing place to call home. Surrounding attractions, such as Cactus Beach, Head of the Bight Whale Watching, and Googs Track, further enhance the allure of this region. Immerse yourself in the local community, with various social groups and sports clubs acting as central hubs of rural social life, and you'll discover an unforgettable experience deeply rooted in community and culture.
Crossways continues to respond to the growing demand of families from within their local community, running an Early Learning Centre, which run programs for 3-4 year olds based on the Reggio Amelia methodology, through to Year 10. Their excellent facilities set amongst expansive grounds allows their wonderful students to enjoy the many academic, cultural, spiritual and sporting opportunities that are available to them. Crossways Lutheran School is a Christ-centred, culturally diverse learning community; empowering students to develop attitudes of respect, empathy and social awareness as well as building skills for service and leadership.
What's on Offer:
With a range of new staff starting in 2024, enjoy peer-to-peer support before you embark on your journey, along with staff mentoring when you arrive. SWITCH Education will help align you with other staff starting in 2024. Starting your journey with a colleague means you instantly have an ally, making it easier to build strong relationships and fostering a sense of belonging and collaboration.
All positions are full-time, permanent.
1x Early Childhood Teacher for ELC
2x Foundation Teachers
2x Primary Teachers (R-6)
1x Middle School Teacher
Permanency: Crossways are dedicated to building a long-lasting relationship with their staff, offering permanent teaching positions for the right candidates.
Relocation Assistance: Moving to this beautiful location? Crossways understand that relocating can be challenging, so they offer relocation assistance to those coming for 2+ years or more to help make the transition smoother.
Accommodation Assistance: Crossways recognise the importance of comfortable living arrangements. Accommodation assistance is negotiable to ensure you feel at home in our community.
Career Opportunities: Crossways is an expanding school. Along with their new wellbeing centre, staff are given opportunities to develop new skills into specialised roles, multiple professional development opportunities and a chance to grow and develop as a teacher in a supportive environment.
Supportive Community: Join a vibrant and welcoming community. With opportunities to join sporting and social community clubs, which are renowned in rural communities as key hubs of social life.
Peer Support Hub: Enjoy peer to peer support before you embark on your journey through the support of SWITCH Education and Crossways Lutheran School.
Country Incentive: As per the Lutheran School Enterprise Agreement, teachers will be entitled to the country service incentive (pro-rata), along with an extra day of paid leave on the last day of each term.
Key Requirements:
Commitment to a Christ-centered learning environment and the values it represents.
Supportive and welcoming attitude, eager to foster a sense of belonging for all students.
Ability to work effectively with indigenous students, respecting and valuing their unique cultural perspectives.
Responsibilities:
Develop and deliver engaging, high-quality lessons that cater to diverse learning needs.
Create a positive, inclusive classroom environment where students feel valued and motivated to learn.
Collaborate with colleagues to enhance the educational experience for all students.
Foster spiritual growth and character development in alignment with the school's mission.
What You'll Bring to the Team
Crossways are looking for tertiary qualified Early Childhood Teachers, Primary and Middle School Teachers who are interested in putting their skills and passion to work in a supportive learning environment.
Other requirements include:
South Australian Teacher's registration
South Australian Working with Children's Check
Responding to Abuse & Neglect training
First Aid Training
How to Apply:
If you are a dedicated educator looking for a fulfilling teaching opportunity in a beautiful and supportive community, we invite you to apply. Please read the position description below "DOWNLOAD OPTION BELOW"
Applications for this position are to include:
A cover letter introducing yourself and outlining the reasons for applying;
A resume outlining experience and qualifications as relevant to this role;
Short statements addressing the Person Specifications (no more than three A4 pages); and
Contact details for two professional referees and your congregational pastor (or equivalent).
Please feel free to contact Mark Bollinger at SWITCH Education on 08 8377 7555 or via email markb@switchedu.com.au in relation to any questions you have about the position or your application.
Applications may be forwarded electronically to markb@switchedu.com.au or applicants can apply directly through SEEK (click here)
Join Crossways Lutheran School in making a difference in the lives of young learners and become an integral part of their Christ-centered educational school in Ceduna, South Australia.
Application Deadline: 14 October 2023, 5pm
Crossways Lutheran School is an equal-opportunity employer. They welcome applications from candidates of all backgrounds and experiences. They are committed to providing a safe and supportive learning environment for all their students and staff.
Apply now and we'll help you make this vibrant region your new home!
To discover more about Crossways Lutheran School, please visit www.crossways.sa.edu.au